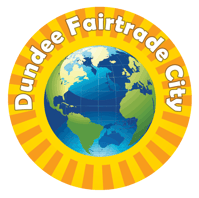 Calling all schools, youth groups and students!
This Fairtrade Fortnight, join us in spreading a simple message: making the small switch to Fairtrade supports producers in protecting the future of some of our most-loved food and the planet.

Would you like to organise a celebration for Fairtrade Fortnight but do not have the funds? Could you use a bit of money to buy some Fairtrade goodies and help spread the word to others about the difference they make, and of course, how delicious they are?
The Dundee Fair Trade Forum, sponsored by Coffee Conscience, is offering small grants of up to £50 to schools and youth groups to enable them to hold some kind of celebratory event to mark Fairtrade Fortnight or the 10th anniversary of Scotland becoming a Fair Trade Nation on 25th February.
All you need to do is contact us by email and let us know:

◦ Your idea – it doesn't have to be original, but original is good! There are lots of ideas on both the Fairtrade Foundation and Scottish Fair Trade Forum websites.

◦ Plan – What will you spend the money on? We can help you to source products – Co-op and Scotmid are good places to start!

◦ Engagement –How will you spread the word? Who will be involved? We would like you to get the fair trade message across to as many people as you can in your school/ community.

◦ Event details – The date, time and venue of your proposed event.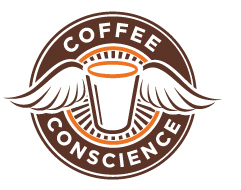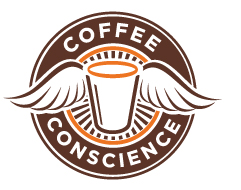 Grants will be given on a first come, first served basis. We can arrange with you the best way for you to receive the money. If you are one of the lucky recipients, we would like to publicise your event in the local media, so please be aware of this.

Please send your contact details and the information about your proposed event to: sally@oneworldcentre.org.uk
We look forward to hearing from you!
We had great plans for Fairtrade Fortnight but unfortunately, due to Covid, these didn't quite come off! But Dundee University managed to celebrate in style with their Fairtrade coffee cart, from which they gave out Fairtrade chocolate, tea and coffee (from Coffee Conscience). They also organised a free giveaway of a delicious Fairtrade rice and chickpea curry, using amazing products from JTS and the culinary skills of Campus Catering. The Top of the Tower café was selling half price Fairtrade goodies all fortnight, and DUSA Premier shop held a raffle to win a Fairtrade hoodie!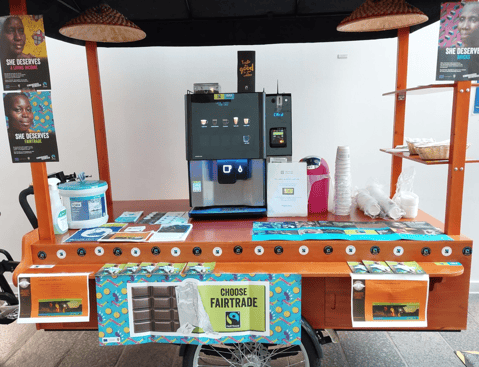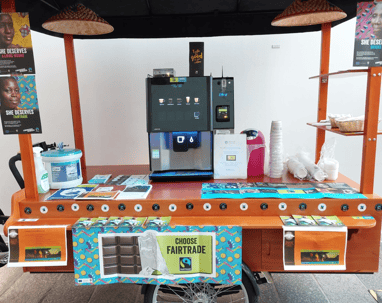 FAIRTRADE FORTNIGHT CELEBRATION
On Wed 26th February, we hosted an evening of talks to celebrate Fairtrade Fortnight at Birchwood Food Emporium & Cafe. The event kicked off with a welcome from the Lord Provost, who spoke proudly of Dundee as Scotland's first Fairtrade City. We then had a fascinating talk by Billy Miller of Coffee Conscience, with good old-fashioned visual aids ably provided by his son, Lewis! Billy has seen the benefits of Fairtrade to coffee farmers first hand, and spoke passionately about his company's commitment to the Fairtrade system. Ian Alexander of Birchwood then described why his business supports Fairtrade, and how it complements good quality local produce. The event concluded with the Dundee Fair Trade AGM.
We were very fortunate on Tues 3rd March to have a visit from sugar farmers Aubrey Meki Chilenje and Nduzani Zaya, representing the Kasinthula Cane Growers' Association in Malawi. They arrived by train from Edinburgh to a beautiful sunny Dundee welcome! After a photoshoot by the V&A and the Discovery, we travelled up to Morgan Academy, where Aubrey and Nduzani delivered talks at two assemblies to the whole of S1. The young people asked some really good questions, and even learned a wee bit of Chichewa!
In March 2020 we received a certificate from the Fairtrade Foundation renewing our Fairtrade City status for Dundee for a further two years. This is in recognition of the work we've been doing to promote Fairtrade to the city's cafes, restaurants, offices, universities and schools, and our presence at events such as the Dundee Flower & Food Festival. We are always interested in working with new businesses and groups, so if you would like to know more, please get in touch,
DUNDEE FAIRTRADE CITY STATUS RENEWED